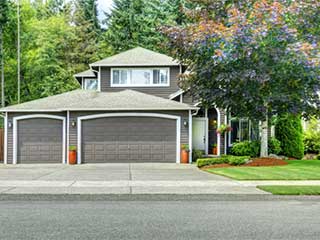 Whether you're considering a new garage door or plan to renew an older one, one thing you may have a hard time making decisions about is material. Since there are so many different variants and styles on the market today, choosing the best one that suits your needs can be challenging. That's why we've decided to take you through the most popular materials as used by homeowners in and around Davis, CA. Read on for more information!
Make Your Door Beautiful With Wood

The level of finish that wood gives to a garage door can make all the difference to the aesthetics and curb appeal of your property - this is why it is such a popular choice for so many. If you are into intricate designs and customization, you can also choose patterns of your own choosing for the overall look. It is worth bearing in mind that wooden garage doors do need to be maintained regularly with varnishing and can be a bit more pricy than other options. However wood composite designs represent a great lower-priced alternative and provide a very similar look and feel.

Steel Doors Last Longer

Steel garage doors represent a generally low maintenance option, and they also tend to last a long time. Layers of galvanized steel are used to construct the doors, so some anti corrosion and anti-rust treatment will be required from time to time. This type has been in vogue throughout America for a long time and is a strong favorite among those who prefer to keep their overhead costs to a minimum.

Aluminum, The All-time Favorite!

Aluminum occupies middle ground between wood and steel. It is lightweight, lasts longer, and comes with a reasonable price tag. It is perfect for people who prefer larger doors and is also a strong choice when it comes to durability.
Lastly, if you're all about customization and want your property to come with its own identity, fiberglass, vinyl, hybrid and glass are all additional avenues you may wish to consider in your quest for the perfect door. If you're unsure what is right for you, our experts at Garage Door Repair Davis would be glad to find the best fit – just give us a call today.