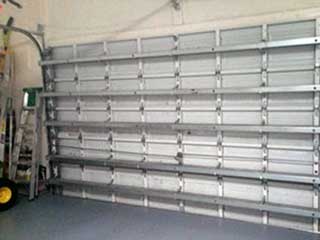 Have you ever wondered what's the best way to make sure that your door last for as long as it can? An often overlooked way to ensure that is to simply make sure your door is properly and regularly maintained. You should listen for any irregular noises and check the system's various components to see if you find something out of the ordinary. Fixing a small issue you find today can save you a lot of money, hassle and time in the future.
Dirt is Never Good
Did you know that the average residential garage door opens and closes more than 1000 times a year? All this repeated movement will gradually result in wear and tear damage to the various hardware parts. It will be wise of you to regularly examine the condition of everything from the hinges and panels to the tracks. Make sure they are clean and free of dust and dirt, which can cause them to deteriorate and worsen their performance.
Make Sure Your Door is Balanced
Checking to make sure your door opens evenly and doesn't leave any gaps or tilts to one side is very important. An unbalanced garage door is usually the result of tension issues with the springs. Anything to do with these components can be very dangerous, so if you find any balance issues, you need to contact an expert right away. You can test the spring tension by opening your door halfway and checking to see if it's able to stay in place or starts to descend.
Inspect The Rollers Carefully
The rollers that help your door move along the tracks need to be checked at least twice a year and be professionally replaced if they become worn. As long as they aren't nylon-coated, lubricating them can increase their efficiency and make their movement far quieter. Your spring could use some lubrication too, as do the hinges and the bearings.
There's Never Enough Time
We all lead busy lives and our team at Garage Door Repair Davis knows that going through an overhead door maintenance checklist is not exactly high on your list of priorities. Don't worry, though. Our technicians will gladly assist you in making sure your garage door is able to stay in an optimal condition. All you need to do is give us a call.