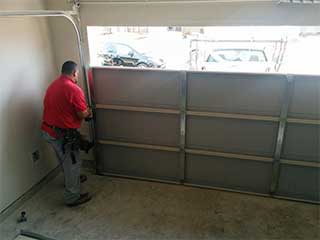 When it comes to garage door repairs, we've got you covered. From spring replacements to safety examinations and opener troubleshooting, we can help. Read on to learn more about about some of the common malfunctions and how we can solve them.
The Door Doesn't Fully Open
There are a few reasons why your door may not properly open or close. If you've checked that the photo eyes are not blocked by objects or dust and confirmed there are no power connection issues, then contact us and we will take a look. A door that won't move may also indicate a snapped spring – when this happens, it's common to hear a loud and discomforting noise and you will be unable to open or close your door. Whether you're using extension or torsion springs, we can provide replacement parts and install them for you.
The Door Moves Up When Closing
If the door moves back up after you've pressed the close button, this may be due to a sensor malfunction. This can happen when they become misaligned - they may falsely detect an obstacle which will cause the door to reverse upwards. If this is the cause, our technicians can troubleshoot the problem and repair it as necessary – we will realign the sensors and check that the wires have not detached or become worn over time.
The Opener Is Broken
If your garage door opener has broken, we can fix it or install a new unit for you, depending on what the problem is. We also offer mechanism and safety sensor tests if you simply want to check that your system is working as it should. These safety checks are vital for making sure that all is working correctly and there is no risk of a hazard developing.
Whatever the malfunction that you're dealing with is, we can look after any repairs and ensure that your door is functioning smoothly again - if you're interested in finding out more about the services we have on offer and arranging an appointment, talk to us today!
We Also Offer:
Genie Garage Door Openers
Garage Door Off Track Repair
Torsion & Extension Spring Adjustment
Multi-Code Garage Door Remotes